Boy, has Tommy Hilfiger changed since I was a child. Long gone are the blue cotton crew-neck sweaters I used to wear in elementary school. He stole Ralph Lauren's color palette and transformed his clothing into works of art not many can pull off. I must admit that
he is the only designer who can pull off pink pants as menswear on the runway. Werk those colors, gorg!
*Seeing this look a lot downtown
I really appreciate that Tommy pairs exotic prints with bold colors. Not many people can pull that off, and he makes it look effortless.
My not-so-favorites
Zero + Maria Cornejo
: The cropped top/belly shirt and Harlem pant are so last season. Next!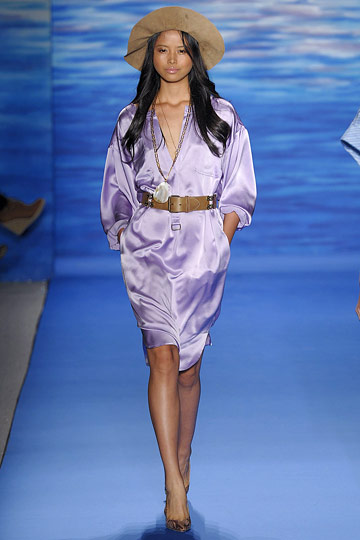 Tracy Reese
: This doesn't look too comfortable, rather sort of tasteless and boring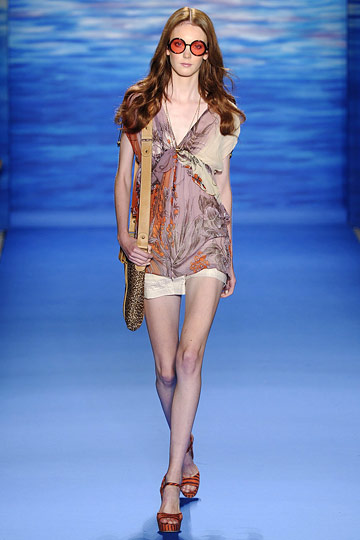 Tracy Reese
: Is the K-mart look back?
Donna Karan
: I didn't like a single look in this collection, but it's still very Donna Karan, which I can respect.
Donna Karan
: Nothing about this is flattering in any sort of way.
Carolina Herrera:
No, no, no, to looking like a peach/pear. Not so into the makeup concept of this collection either.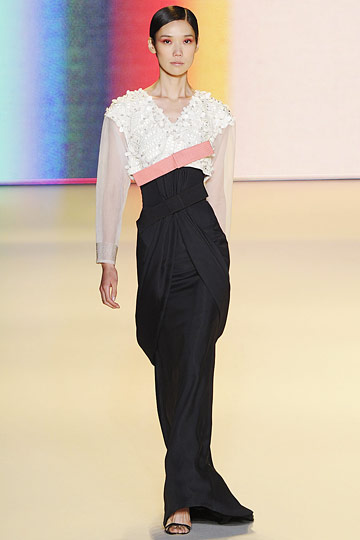 Carolina Herrera
: I doubt the model is this disproportional.
So far, next season's trends include: Peaches/pastels, bright pastels, browns and metallic golds (as opposed to this season's dull caramel golds), blue (which seems to be in every season), short suits (pants and jacket's, resurrection of high-waters)
Makeup trends: Blue/green shadow emerging above the crease, cheekbones, exaggerated cheekbones, exaggerated eyes done right, overly shiny lips, multiple colors on lip, minimum eyeliner instead more attention is focused on eyeshadow and shape of eyeshadow. Soft exaggerated rosy cheeks, statement lips (yay!!!!!!!!!!!).
**Photos Courtesy of Nymag.com/Imaxtree