So far the designers who've shown today at MFW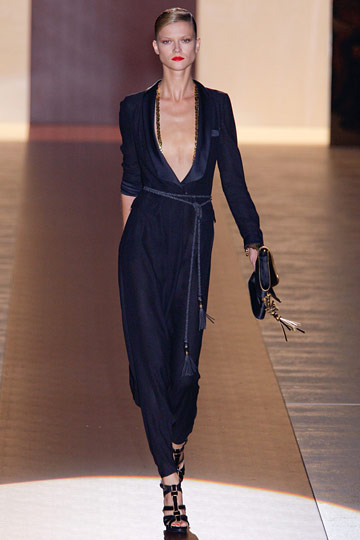 This collection is classic Gucci. The hue of the colors with a side of an avant garde juxtaposition of the pieces and the carefully crafted silk blouses. The colors are rich and the models are beautiful. The hair, makeup...perfectly in place. Using the simplest elements Giannini made sure the collection showed an opulent vibe as to maintain the Gucci 'look'. Cut-out fringe tops are implemented extravagantly yet tastefully. She manages to stick in the gold undertones and then the gold by itself. Take note that next season you can tie a rope or some rubber tubing around your waist and call it a day. It's so good. So so good. Of course there was a plethora of leather and the usual Gucci euro-trash vibe we sometimes get, but every rose has it's thorn.
She is on the top of my favorite designer list (it's about six pages long, but nevertheless..) for her beautiful elegant dresses. Usually I wait in anticipation for her collections and this show was no exception. The sheers with a heavy yet understated nature theme are something that can go terribly wrong if executed imperfectly. I love that she uses nature as her inspiration, it is something that very few designers have been able to pull off. The crochet/micro-crochet/lace tops delicately laced together assures me that if there is one thing I can differentiate about Ferretti's collections in contrast to other designers is her fabric choice. She can have the most grotesque design, but the way her fabrics work together and move with the body is an art. I had to show you guys two looks because I couldn't choose between them! I love see-through long flowy dresses with lace underneath, or something peeking through.
Also something to take notice: different types of stripes are in next season. All types and variations. Some of the stripes are cut-out/see through like what we saw in London (that I'm brutally sure is very MK). I am seeing a ton of stripes around campus already, and I feel like every collection has incorporated them in some way.
So far we are off to a great start in Milan. Keep in mind I am not posting all of the collections from each fashion week, just the ones that I find interesting or worth writing about. To see more or all of the shows, go to
Nymag.com.
Less than one week until Paris Fashion Week, I can barely wait! All of my favorites are showing!!