The walk-in-the-garden catwalk displayed a more subtle and simple vibe than previous years, with a touch of vintage and old-school checkered. I love the big flowers on the shoes, they remind me of the ankle accessories that were popular for a total of three days last season before Lanvin ended it with their chain-ankle pump. Those red boots though...are those rain boots? We see the platform wedges once again...I'm sensing a trend. Of course not everybody can pull those off, but they are more comfortable than regular heels. Speaking of trends, I'm seeing a lot of crochet and a lot of patterns clashing, and I'm so in love with those big bags! A little bit MJ'sy, but the clothes look comfortable. It's probably the material that moves very well with the body.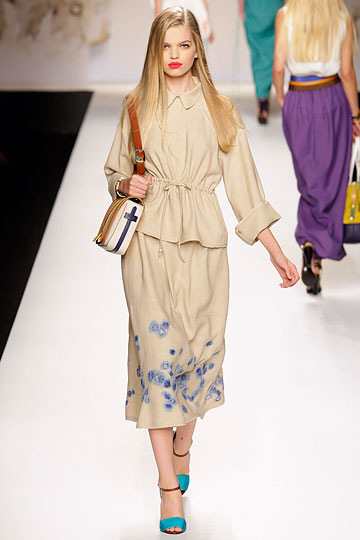 Fendi is Karl Lagerfeld's alter ego; It's the other side of him, that luxurious girl who jet-sets, lives on a yacht, and still manages to look classy and respectable. Everything was effortlessly chic...the shoes are to die for, classic Fendi, and I love the handbags and the cross detailing on them. The blue and tan color palette wasn't too crazy or overloaded, and Karl rarely is, but I saw some shoes I didn't approve of. Remember those orthopedic no incline shoes we talked about earlier? Yes...those. Lagerfeld just brought them into the luxury market. Just now, with this collection. Wait, just
wait
for the Chanel show.
I also wasn't a fan of the bulky light puffiness in some of the clothes. Some were so puffy they made me nauseous!
Oh, Prada. prada prada prada. I loved your F/W 2010. LOVED it. In fact, it was my favorite of the season. I loved the heavy wool socks with the shoes, I thought it was genius! I loved the long skirts that were so beautiful and feminine that they consistently persuaded me to jump through my computer screen, steal them off the models and wear them to class. Howeeeeeever, this season was...lacking in some places. I'm so torn as to why Prada would follow that beautiful collection with this plain one. I love the house so much, it breaks my heart to see the models walking down in hospital gowns. The stripes, the colors, THE BANANAS, the lack of shape...it was more urban and cheap than luxurious and sexy. Fashion is an evolution; we don't want to go backward, we want to go forward!