The clothes, the shoes, the simple hair and makeup and the minimalist runway tie perfectly together to create an aesthetic that is pleasing to the eye. What I'd like to see more is personality from the models. Not one girl is strutting her shit! Someone call J. Alexander. I am really beginning to like the mix of patterns. It's a tricky feat, but if perfected looks wooonderful!! I love the drastic slit in the skirts, very Italian!
Lace, see-through lace, long skirts...what I like to see! One of the only designers who can pull off flats on the runway. Who said you can't tuck cinched wasted blouses into cut-offs? I would wear this lace dress IN A HEARTBEAT.
Well here's something different. I'm sorry but I couldn't help think of A.Mcqueen when I saw these clothes and the covering of the face and the patterns (really?) and the cuts and.......well this is embarrassing.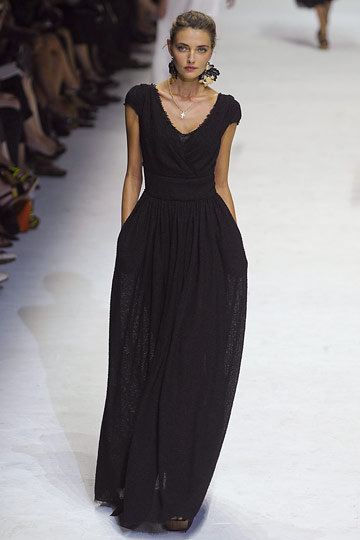 Always elegant and sophisticated, lace is for sure the topic of disection in Milan. This collection really shows that D&G is not an airport duty-free brand. How beautiful is the embroidery? Get rid of the shoes, please.

I loved Dsquared2's Fall 2010 collection a lot. When certain elements are used in the right context (patent leather, the color red), it can change one's perception of said elements for future shows. I certainly was aware that Dsquared2 does not have a signature look and next season was going to be completely different from this season, but I was hopeful that I wouldn't be disappointed. Disappointed I was not. Menswear was taken up to a premium standard and the satin/silk references are noted in a lot of collections next season. The glasses are to die for and the shoes...all I have to say is finally someone took brogues and ran with it! What I'm wondering is what the eff happened to one of the Caten brothers' legs?
Armani loves to play with grey hues. I dont mind it as much as I do the stark medicinal pink near the end, but sometimes it can get a bit repetitive. I love the...I'm not sure what it is...chiffon? Silk jersey? Something stretchy...underneath the skirts. I dont know how practical that is for wear, however, as the fabric would keep rising up. I love the structured shoulders and that one model who looks like she is about to walk right off of the runway into the front row. Silk organza................not my favorite fabric. Organza in general is not my favorite fabric. It reminds me of a cheap prom dress or any one of Hillary Clinton's pantsuits. Not feeling the shoes either.
This collection looks like the love child of Cavalli and Ralph Lauren. The only thing I've ever loved about Pucci were the scarfs. Don't be fooled by the beautiful dress above...it's the only thing (really, the ONLY THING) I liked.
Much to the contrary to Emporio, I loved this collection. The clothes are practical for every-day wear but also stand out. Did Armani all of a sudden become color blind or have a revelation about the color blue? Every single article of clothing is blue. It's really hard to pull off a collection with one color and different hues of that color, and even though Armani does it better than most, it's still boring. I want color, otherwise I will fall asleep or have a panic attack.